Key Clients of
The North Group Inc.
---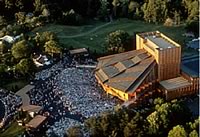 Aerial view of the Filene Center
during a performance
(Photo: Robert Llewellyn)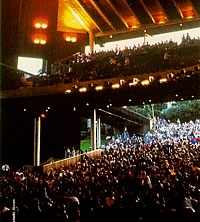 Wolf Trap Foundation
for the Performing Arts
Vienna, Virginia
Wolf Trap is America's only National Park for the Performing Arts. It is best known for its summer performances at the Filene Center, an open walled performance pavilion and lawn amphitheater that can accommodate almost 7,000 audience members. The Wolf Trap Foundation also runs the nationally-recognized Wolf Trap Institute for Early Learning Through the Arts and Wolf Trap Opera Company for young adult singers, and it hosts performances year-round in the 382-seat The Barns of Wolf Trap. With an annual operating budget of about $25 million, the staff of some 80 full time and 150 seasonal workers produces over 275 performances and events a year.
Halsey North's relationship with Wolf Trap started in 1982 when he helped Catherine Filene Shouse (1896-1994) raise private funds to rebuild the Filene Center after a fire. Mrs. Shouse had founded Wolf Trap by donating 100 acres of farmland just outside Washington, DC. to the U.S. Government, as well as funds for construction of a 6,800 seat indoor/outdoor theater. The gift was accepted by an Act of Congress in 1966, and the Filene Center opened in 1971 as a public/ private partnership between the Wolf Trap Foundation and the U.S. Department of the Interior, National Park Service.
1993-1994 Internal fundraising capabilities audit, analysis of fundraising environment and comparable area organizations, annual operating campaign feasibility study, and annual campaign planning. The North Group Inc.'s relationship with Wolf Trap started in 1993. Halsey and Alice North worked with Julie D. Carter, Senior Director, Development (703-255-1900), the Board Development Committee, and senior development staff Jo Hodgin, Jack Walton, and Anne Tilson Coppola to:
Do an internal fundraising capabilities audit.
Develop an analysis of the fundraising environment in the Washington Metropolitan area and compare Wolf Trap's annual fundraising with major arts organizations in the area.
Create an interview book designed to provide information and capture the imagination of potential funders, outlining Wolf Trap's current operations, finances, programs, attendance, fundraising track record, and plans for new "points of excellence" initiatives.
Do 39 in-depth, confidential interviews to evaluate how much Wolf Trap could raise annually.
Create plans and recommendations to increase the results from Wolf Trap's annual giving campaigns.
In February 1994, the Norths presented to the Development Committee a 45-page report and a 63-page appendix, outlining strategies and recommendations designed to help Wolf Trap double its annual giving from $3 million annually. Wolf Trap then hired the Norths to help implement the recommendations. Today, Wolf Trap raises nearly $7 million a year in annual operating support.
1996-1997 Strategic planning and staff and board retreats. The Norths worked with Terrence (Terre) Jones, President and CEO of Wolf Trap, and Jo Hodgin, Director, Planning and Initiatives, to plan for and facilitate "workshops" for Wolf Trap's staff and then board. The workshops were designed to enhance thoughtful communication among the staff and board, exploring a mutual vision and crafting a road map of practical actions that would guide Wolf Trap into the next Millennium. In preparation for the workshops, Alice North assisted the staff in developing workshop manuals that outlined key issues and provided budgets and discussion briefings needed for productive decision making. The Norths facilitated the retreats, and then Alice helped shape the results into the Foundation's first 3-year strategic plan, 1998-2000.
1999 The Wolf Trap Associates board/staff retreat to re-invigorate broad-based membership fundraising at the $50-$1,000 levels. Halsey and Alice worked with Margie Deane Gray, Director, Associates and Foundation Events, to facilitate a 1-day board/senior staff retreat to set new organizational priorities and create a business plan that dovetailed with the Foundation's strategic plan. The Norths met with Margie and key board members the day before the retreat to discuss special issues and concerns. Based on the results of the retreat, Alice helped draft a plan for a "Membership Expansion and Upgrade Initiative" designed to: 1) upgrade current Associates members to higher giving levels, including an annual Associates Board Giving Campaign, and 2) add new members through a pro-active, year-round membership campaign.
2000 Business plan, Senior Staff Council/Board Executive Committee planning retreats. Building on the success of the first 3-year plan, Terre Jones and Jo Hodgin worked with the Norths create a "Five Year Business Plan, 2001-2005." To start the process, Alice translated the first 3-year plan into a planning format using PowerPoint that was clear, logical, invited participation of staff and board, focused the discussion, and could achieve group consensus quickly by capturing participants' ideas, changes, and revisions. Terre and Jo worked to update the ideas, clarify the thinking, and clearly present options between which the staff and board could choose, select, and adopt. The senior staff and then board executive committee were able to create the new plan and its action steps, timetable, and who was responsible instantly in an interactive, dynamic, fluid process. The planning was fun, colorful, and broke the discussion into logical components. The resulting plan consisted of the actual PowerPoint slides edited and refined, two to a page. Coincidentally, the planning process fit well with the plan's media technology goal to maximize the use of technology to support patron and donor services, present and support the performing arts and education programs, and share the Wolf Trap experience.