Key Clients of
The North Group Inc.
---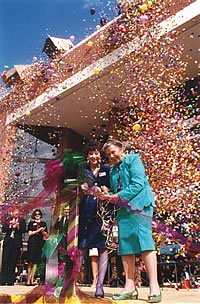 Billie Jo Starr and Helen Walton
open Walton Arts Center 1992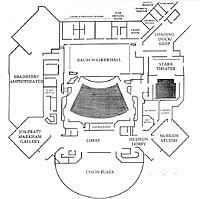 Walton Arts Center
Fayetteville, Arkansas
A 16-year relationship.
2003-2005 Operating funds for program enhancement and program endowment campaign. In 2003, Halsey and Alice North helped Anita Scism, President/CEO (479-443-9216 x272, ascism@waltonartscenter.org), conceive and secure a $3,000,000 Arts Presenting Initiative grant to enable the Center to enhance its programming, bringing more world-class artists and performances to Northwest Arkansas. To build on the programming excellence begun with the Arts Presenting Initiative grant, the Norths are working with Anita Scism, her staff, and key volunteers on a campaign to raise $20,000,000 in programming endowment. They have assisted with identifying and cultivating the Endowment Campaign Leadership Team, creating campaign materials, conducting prospect research interviews, and determining the best strategies for donor cultivation and solicitation.
2003 Regional arts council. To jump-start the creation of a new Northwest Arkansas Arts Alliance serving Benton, Carroll, Madison, and Washington Counties (see Cultural Development Action Plan's objective #1 below), Halsey and Alice North of The North Group Inc. and Craig Dreeszen of Dreeszen & Associates (413-585-8474), helped create the case; facilitate public meetings and gatherings of special interest groups; outline the mission and 3-year plan; draft the by-laws; draw up the Arkansas nonprofit incorporation papers; do the paperwork to apply for 501(c)(3) federal tax status; recruit the founding board of directors; develop the first-year budget; and identify and cultivate funding sources.
2002 Regional cultural development plan. The Norths worked with Anita Scism, her staff, and key volunteers to create a regional cultural development plan by: creating a PowerPoint case presentation to facilitate the visioning and planning process; establishing a committee of the region's corporate, philanthropic and community leaders; evaluating current cultural programs and services available in the region; researching and surveying regional arts patrons, supporters and educators; collecting input and shared experiences of comparable communities throughout the U.S.; establishing project partners throughout Northwest Arkansas; and facilitating focus groups and public meetings. The resulting 2002-2007 Cultural Development Action Plan contained the following 10 objectives:
Develop a Regional Arts Council.
Establish a Cultural District.
Present more prominent shows and renowned artists.
Build a new performing arts facility.
Create a package of centralized regional services and operational assistance.
Address relationship and space needs with University of Arkansas.
Build an art museum.
Augment and enrich education programming.
Present more prominent visual arts exhibitions.
Establish resident companies.
1995 Campaign for expanded education program. The Norths assisted R. William Mitchell, Executive Director (479-927-2951, Bmitchellworks@cs.com), with efforts to build a separate education building (Nadine Baum Studios) and administrative offices (Just Off Center), as well as strengthen the endowment support for on-going operations and an expanded education program. By 1999, the amount of capital funds raised — for buildings and endowments — surpassed $22,000,000, in addition to the $10,000,000 originally donated by the City, the University, and Sam and Helen Walton.
1989-1992 Organizational assessment, board retreat, strategic planning, business plan, fundraising feasibility study, and capital and endowment campaign. The Norths worked with Bill Mitchell and key volunteers to evaluate the fundraising capacity of what was an embryonic organization, facilitate a board retreat, help with strategic planning and financial projections, and conduct a region-wide fundraising feasibility study. The Norths help to re-envision the Walton Arts Center project as:
A regional fund drive for Northwest Arkansas to build, equip, endow, and operate a regional arts, entertainment, and education center,
A "gift from one generation to the next," and
An exciting focus for regional economic and cultural development (WAC was, in fact, one of the first coordinated efforts in the region, and the way the fundraising was organized helped lead to the creation of a regional airport and an acceleration in regional planning).
The Norths recommended and helped with the difficult task of changing the board from a 50/50 Fayetteville/University of Arkansas split and expanding it to create a 25/25/50 Fayetteville/ University of Arkansas/regional Northwest Arkansas split in order to facilitate fundraising and future attendance by developing a sense of ownership within the broader region.
The Norths helped search for appropriate leadership with the time, clout, and passion to lead the campaign effectively. Fortunately, a dynamite and singular campaign chair, Billie Jo Starr, stepped forward and headed the quiet component and then the public effort, involving hundreds of community leaders throughout the region. The result was a successful campaign that exceeded the $9,000,000 goal, raising $10,500,000 to augment the $10,000,000 donated previously by the City of Fayetteville, the University of Arkansas, and Sam and Helen Walton.
In 1992, Walton Arts Center opened with a 1,201-seat Baum Walker Hall, a 220-seat black-box Starr Theater, a 70 to 100 seat McBride Studio, a Main Lobby that accommodates seated groups of 100 to 400, a 2,500 square foot Joy Pratt Markham Gallery, and a 50 to 200 seat outdoor Bradberry Amphitheater. Since its opening, the Center has served as a catalyst in the revitalization of Dickson Street in the heart of Fayetteville's downtown.