Key Clients of
The North Group Inc.
---
Hudson Opera House
Hudson, New York
Built as the town's City Hall in 1855, the Hudson Opera House anchors a handsome downtown Hudson, never prosperous enough for urban renewal. The historic Opera House housed the post office, police station, Common Council, and a theater upstairs. It hosted lectures by Henry Ward Beecher and Bret Harte, exhibitions by local painter Frederic Church, and concerts by traveling musical performers.
In 1962 when City Hall moved up the street, the building was abandoned. Efforts to raise funds for purchase and restoration began in 1992. The first restored room opened in 1996.
Since 1997, Gary Schiro, Executive Director, (518-822-1438, gary@hudsonoperahouse.org) has overseen the restoration of the front door, center hallway, and several rooms on the first floor and the creation of plans to restore the entire building as an arts center. With only five rooms open, the Opera House bustles with well-attended art classes, gallery and children's programming, collaborations with other arts groups, and community events.
February 2006 planning retreat. Halsey North, Alice North, and Susan Sperber, formerly of The Colonial Theatre, directed a two-day retreat to enable the board/staff team to articulate a compelling new vision and mission and to lay the groundwork for a major capital campaign to complete the restoration of the Hudson Opera House.
Gary Schiro reports on the experience as follows:
Realized Outcomes
of the 2006 Planning Retreat
Our Board members were energized and engaged in the Board Retreat to an extent that far exceeded our expectations. Attendance was excellent -- 18 out of 21 members. Alice and Halsey North, working with our staff and key board members, made presentations accompanied by PowerPoint slides and a Retreat Manual that contained handout material. Everyone who attended went away with a clear sense of Hudson Opera House's mission, its financial picture, the scope of and cost estimates for the restoration project, the Norths' new "planning" model for a capital campaign, their expected roles in a campaign, and the nature and scope of a planning study. The result was: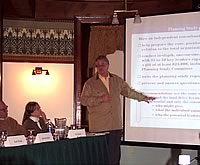 Our Board: A new sense of enthusiasm, urgency, energy, participation, action, and commitment to the restoration project. At the Retreat, their enthusiastic participation in discussing the organization's mission and their understanding of our mutual direction have been particularly gratifying. We have received much positive feedback from Board members, including an unsolicited 5-year pledge. Board members themselves are generating a step-up in activity!
Our staff: Additional work to satisfy the Executive Committee's immediate needs for specific information as they embark on their Board mini-campaign for annual giving, intended to expand their fundraising capacity. We have the growing sense that our own energy is being augmented with corresponding energy and enthusiasm on the part of our Board. We were astounded that the revision of our organizational mission happened so naturally at the Retreat, with such consensus, and with such an almost unanimously acceptable product (there remained minor semantic quibbling, but all could live with the final version).
Deliverables: Retreat manual, revised architect's plans, and final Retreat summary -- all of which were circulated to every Board member.
Key factors: The people -- the valuable contributions of staff, Board members, and excellent, experienced consultants whose facilitation of this Retreat was truly commendable -- and the place, a congenial, gracious backdrop for the serious work that we accomplished. The positive impact on Hudson Opera House Board and staff is directly attributable to choosing the right consultant, preparing rigorously for the Retreat, and choosing a hospitable venue that Board members looked forward to experiencing.
The quality of our relationship with The North Group is excellent, and we would not hesitate to recommend them to other arts organizations. Alice and Halsey North are highly experienced in this specialized field, and they are pleasant, congenial people -- good listeners, effective presenters, diplomatic yet forthright critics, and generous advisers.