Key Clients of
The North Group Inc.
---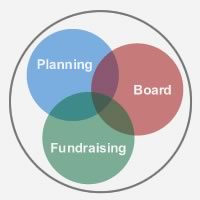 Re: ''More Money from More People,'' Winter Institute, Evaluation Form
Dear Alice and Halsey,
This seminar sold out before any of the other Winter Institute seminars and was by far the most popular and highly anticipated. The Norths' reputations obviously precede them, and rightly so. Of the 28 evaluations we received, at least five of the participants noted that they had attended seminars given by the Norths before and would love to do so again.
All the participants felt the seminar was very well organized and "absolutely filled with great information." Many people said they took away helpful materials and basic concepts to aid them in their fundraising processes. The participants also particularly appreciated the case presentations, finding specific examples of what has worked in the past very helpful. Many participants specifically mentioned that they left the seminar with a "new energy," with one participant noting her feelings as: "energy>inspiration."
Programs Manager, Association of Performing Arts Professionals
---
Halsey and Alice,
It is my pleasure to thank YOU for a terrific opportunity to teach and learn so much. This was, without a doubt, the best ever group of sessions, and it was such a treat to meet the presenters and to teach with Chad, Kathy, and Susan. You guys have made such a TREMENDOUS contribution to the field, and you should be very proud of all your protégés and all the wonderful things you have helped get started in communities all over the country. It is such a pleasure to be your friend and colleague.

Senior Director, Development, Wolf Trap Foundation for the Performing Arts, Vienna, VA
Association of
Performing Arts Presenters
Mario Garcia Durham, President & CEO (202.207.3847)

Teaching at the WINTER INSTITUTE/PRE-CONFERENCE FORUM/hosting CONSULTATION SALON preceding the Annual Members Conference 1987, 1989, 1991, 1993, 1994, 1995, 1996, 1999, 2000, 2001, 2002, 2003, 2004, 2005, 2006, 2007, 2008, 2009, 2010, 2011, 2012, 2013. Since 1987, Halsey and Alice North – joined by leaders in the field of performing arts management – have taught ½-day to 2-day seminars on various topics in fundraising, board development, and planning at for Arts Presenters pre-conference. The sessions focus on practical and helpful information grounded in real life challenges and success stories. In 2013, the session focused on "How to Raise the Money you need through a Capital/Capitalization Campaign" with case studies on Fox Cities Performing Arts Center and Proctors with fellow teachers Susan E. Stockton, President, Fox Cities Performing Arts Center, Appleton, WI, and Bill Mitchell (Mitch), Senior Consultant, The North Group Inc., and President, MITCHELLworks, Fayetteville, AR (Former President & CEO of Walton Arts Center and Clay Center for the Arts and Sciences).
Halsey's almost 40-year relationship with the Association of Performing Arts Professionals (formerly the Association of Performing Arts Presenters):
1975-1979, co-hosted and helped teach three week-long summer workshops in Durham, Raleigh, and Charlotte, North Carolina.
1976-1981 Board member
1979-1981 Board Treasurer
1979 Prepared Ten Prerequisites for Successful Fundraising which Arts Presenters printed and sold to members
Since 1987 With Alice North and fellow teachers, conducted pre-conference workshops on fundraising, board development, and planning
1988 Honored with the Fan Taylor Award for outstanding service, creative thinking, leadership and significant impact on the profession of presenting the performing arts
1993 Founding member of the national committee for the "Bill Dawson Education Endowment Campaign" designed to help fund internships in arts administration
2000 with Alice North and Bill Mitchell, conducted a study to assess the feasibility of doing a campaign to endow Arts Presenters' Cultural Participation Programs
Numerous times, served as a Sergeant-at-Arms and on the Welcoming Committee for the Annual Conference
Since 1985 with Alice North, produced the midtown Manhattan restaurant map, which they provide each year to APAP|NYC attendees (the map is online all year long)
Since 1993 for 19 years with Alice North, hosted the annual Board Alumni Dinner
Spring 2012 with Alice North, featured in Inside Arts: The Magazine of the Association of Performing Arts Professionals article entitled "Outside Arts: UNITING CREATIVE SPARKS, pp26-27
January 2013 with Alice North, honored by Mario Garcia Durham, APAP President & CEO, at the 20th Annual Board Alumni Reception with the ''Halsey and Alice North Award for Committed Excellence and Service to the Field by an Alumni Board Member'' from the Association of Performing Arts Professionals. FIRST RECIPIENTS 2013; subsequent recipients are 2014 Mikki Shepard, Apollo Theater Foundation, NYC; 2015 Lisa Booth, Lisa Booth Management, NYC; 2016 Ken Fischer, University Musical Society (UMS), University of Michigan, Ann Arbor, MI; 2017 Colleen Jennings-Roggensack, ASU Gammage, Arizona State University, Tempe, AZ; 2018 Ivan Sygoda, Founding Director, Pentacle, New York, New York; 2019 Susie Surkamer, Executive Director, South Arts, Atlanta, GA