Key Clients of
The North Group Inc.
---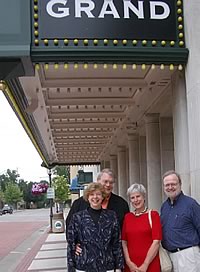 Alice and Halsey North,
Mary Stremlau, former Associate
Director, and Jim O'Connell,
Executive Director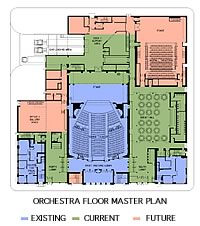 Grand Theater/ArtsBlock Project Wausau, Wisconsin
Originally built in 1927, the historic 1,250-seat Grand Theater had hosted local performing arts organizations and touring shows since its re-opening in 1987. By 1996, the demands of touring groups had escalated, Broadway shows had become larger, and audiences had became more responsive. As a result, the Grand needed to enlarge its stage and make improvements backstage, in the auditorium, and in audience amenities.
1996-1998 Fundraising feasibility assessment, board retreat, and strategic planning. Halsey and Alice North helped James O'Connell, Executive Director (715-842-0988, joconnell@grandtheater.org), the staff and board of the Wausau Performing Arts Foundation, and other key volunteer leaders to envision the needs of the Grand Theater in combination with the needs of the city of Wausau for the renewal of its downtown. They used strategic planning to conceptualize a Grand Theater/ ArtsBlock project within a larger community context. Over time, the Norths stage managed a "courtship" process, gathering input, adjusting the plans, and getting more and more people to buy into the vision. As a result, O'Connell and his colleagues successfully tackled the $13,100,000 campaign to make ArtsBlock a reality.
1998-2000 Capital campaign. Halsey and Alice North staged managed the quiet component of the campaign, training the staff and leaders, encouraging them, and coaxing them through the process of raising more than $10,750,000 from the first 570 gifts.


ArtsBlock and the enhanced Grand Theater opened in 2002. The project inspired the creation of a town square, new office spaces/restaurants/shops/foot traffic, and the renovation of Wausau's downtown shopping district.