Services of
The North Group Inc.
"The mission of
The North Group Inc.
is to give our clients
the best service possible,
customized to meet
their needs."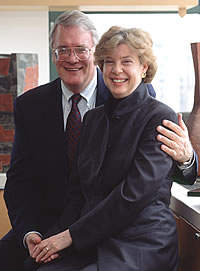 Halsey M. North, Chairman
Alice H. North, President
[ read brief bios ]
Photo by Kenji Takigami
Brooklyn, NY
Halsey and Alice were honored by the Association of Performing Arts Professionals on January 13, 2013, and became the first recipients of the:
Halsey & Alice North
Board Alumni Award
In naming the Award for Halsey and Alice and presenting them with the first Award, APAP recognized Halsey and Alice for their nearly 40 years of "generosity of spirit and dedication" to the association and its annual conference, especially their efforts to keep former Board members connected and engaged.
Each year, the award is presented to an APAP Board Alum who has demonstrated in their words and actions the beautiful spirit of generosity and giving, not only on a continuing basis to Association of Performing Arts Professionals, but to the field at large.
RECIPIENTS
2013
Halsey & Alice North, The North Group Inc., NYC
2014
Mikki Shepard, Apollo Theater Foundation, NYC
2015
Lisa Booth, Lisa Booth Management, NYC
2016
Ken Fischer, University Musical Society (UMS), University of Michigan, Ann Arbor, MI
2017
Colleen Jennings-Roggensack, ASU Gammage, Arizona State University, Tempe, AZ
2018
Ivan Sygoda, Pentacle, NYC
2019
Susie Surkamer, South Arts, Atlanta, GA
2020
Jackie Davis, New York Public Library for the Performing Arts, NYC
2021
Olga Garay-English, independent arts consultant and Senior Advisor for International Affairs to Fundación Teatro a Mil
Welcome to The North Group Inc.
Successful track record nationally. Since 1987, The North Group Inc. has assisted performing arts centers, theaters, arts councils, arts service organizations, and communities across the country with "use" and fundraising feasibility studies, capital and endowment campaigns, annual operating campaigns, solicitor training, strategic planning, board development and retreats, cultural planning, organizational assessments, business plans, and workshops on fundraising, board development, and planning. The North Group Inc. is best known for an integrated approach to organizational planning, board development, and fundraising, using planning efforts as opportunities to involve and excite potential donors.
More than raising money. The North Group specializes in guiding capital and endowment campaigns that: 1) energize those involved – staff, volunteers, communities, downtowns, and regions, 2) give confidence and experience to new generations of leaders, and 3) elevate a community's sense of what it is capable of accomplishing.
Instill residual strength into client arts organizations. During consultancies, The North Group works strategically to enhance the knowledge and skills of organizations' staff, board, and other key leaders to strengthen the groups' ongoing planning and fundraising capacity.
Long-term relationships. Numerous clients have rehired The North Group over the years to help plan for and manage new phases of growth as they build on past successes. In that way, The North Group brings an organic continuity to the process of planning, board development and fundraising.